Please check out our PAWS Page on Facebook! (Parents and Whateva' 'Sociation)
Parents! Volunteers! Coaches!
To work with Lionhearts Fitness and Youth OCR, we need you to get a little matter out of the way.
This attached form only covers GA and we will probably have more inclusive requirements as we continue to grow.
Anyone, working/helping/assisting our youth, including my daughter (Coach Squishy, who just reached the age of 18,)
MUST fill out this background check.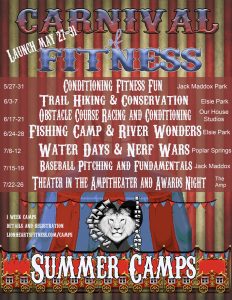 Thank you for everything!!
2019 Summer Camp Itineraries and Supply Lists
Week 1 (Conditioning Fitness) 2019 Summer Camp Conditioning Fitness Itinerary
Week 2 (Trail Hiking & Conservation) 2019 Summer Trail Hiking & Conservation Itinerary & Supply List
Week 3 (Obstacle Course Racing & Conditioning)2019 Summer OCR & Conditioning Itinerary & Supply List
Week 4 (Fishing Camp & River Wonders) 2019 Summer Fishing Camp & River Wonder Itinerary & Supply List
Week 5 (Water Days & Nerf Wars) 2019 Summer Water Days & Nerf Wars Itinerary & Supply List
Week 6 (Baseball Pitching & Fundamentals) 2019 Summer Baseball Pitching & Fundamentals Itinerary & Supply List
Week 7 (Theater in the Amphitheater & Awards Night) 2019 Summer Theater Itinerary & Supply List