Fitbar Strong has donated much to the Lionhearts Fitness Center, as have Race Ready Obstacles. They both believe in our mission and have filled our facility with beautiful donated items. Videos and Photos here.
The grips from both of these amazing sponsors, companies, and now dear friends will fit on these rigs, which can be transported anywhere.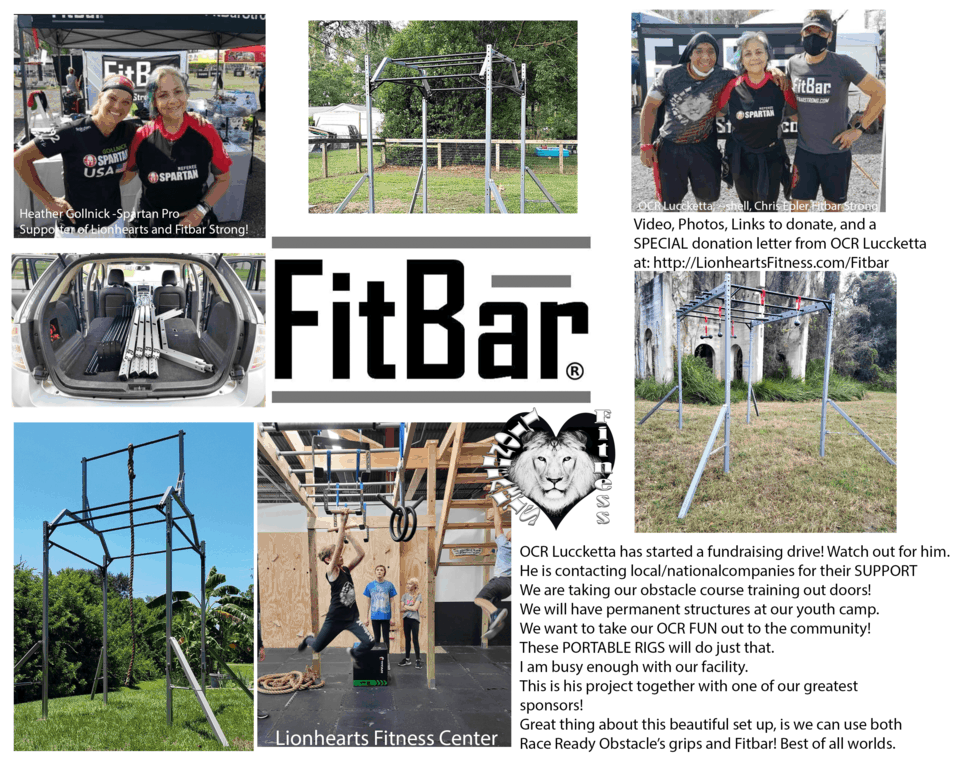 A plea from OCR Luccketta, written by this 17yr old coach, mentor and competitive racer.
Hi I am Luccketta. I am a coach at Lionhearts Fitness.
Lionhearts is a youth organization. We help kids get over obstacles in life and here at Lionhearts Fitness Center. We teach our youth OCR (Obstacle Course Racing.)
We take our youth to Obstacle Course Races, including big ones like Spartan races. We have recently taken 60 youth to a race. Soon we will be an America Ninja warrior qualifying gym.
Ok let me get straight to the point. We need money!!
We are trying to purchase 2 portable s from FitBar Strong. These rigs will help us tremendously. It will help because we are wanting to train our youth to run a sort of long distance and to be able to do an obstacle after running. We cannot do that in the place we have now. We will be able to take it down and put it up easily. We will be able to take it to parks and trails, so that the youth may be able to run and then do the obstacles. We want to get 2 of these rigs from FitBar Strong. They are about $3,000 each.
We are asking for private donations and companies. I will be calling around. This is important to me and my new job.
We are free fitness for all youth. We serve both GA & TN.
We recently got non-profit of the year with the Catoosa County Chamber of Commerce and we got Best of the Best.
The community built our 7,000 square foot facility. The obstacles we have are built into the floor so we cannot move them. As we continue to grow, we need to provide for the needs of the youth. We need your help to do that.
We are 100% free fitness. I am a 17-year-old youth. I volunteer my time 4 days a week and so do our other teens. We have more than 150 youth. We do not get paid. No one does, not even my mom.
We get paid by the smiles on their faces when they get over the obstacle that was too hard for them.
We need your help thank you!
There is a donation button on our website.
http://LionheartsFitness.com/FitbarStrong
OCR Luccketta
Videos and photos added often: HERE