UPDATE!
LIONHEARTS SUMMER DAY CAMPS 2022 ARE NOW CLOSED!
We had an amazing 7 weeks of camps
We are ending on a high note at the Catoosa County Parks and Recreation Elsie Holmes Fishing /Nature Camp.
What an amazing 7 weeks of Summer! Races, Mentors Matter, Visits, Hiking, Fishing, Arts and Crafts and a whole lot of Obstacles!!
Classes return to normal hours July 18th
Tuesday 2-4 5-7
Thurs 2-4 5-7
Fri 5-7 Teens and Adults
Coming Soon: "Girls Night" Wednesdays. Ages 7 and up.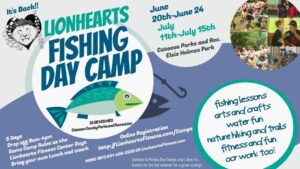 ATTENTION LIONHEARTS!
Photos from this year's Camps:
Thanks to our friends at the Catoosa County Parks and Recreation, we have secured TWO separate weeks for FISHING Camps.
They have always been so much fun.
We are so excited because we do love this camp! Will we bring the Fitbar Rig?
We still have races you know! Spartan, Savage and Tough Mudder are on the agenda!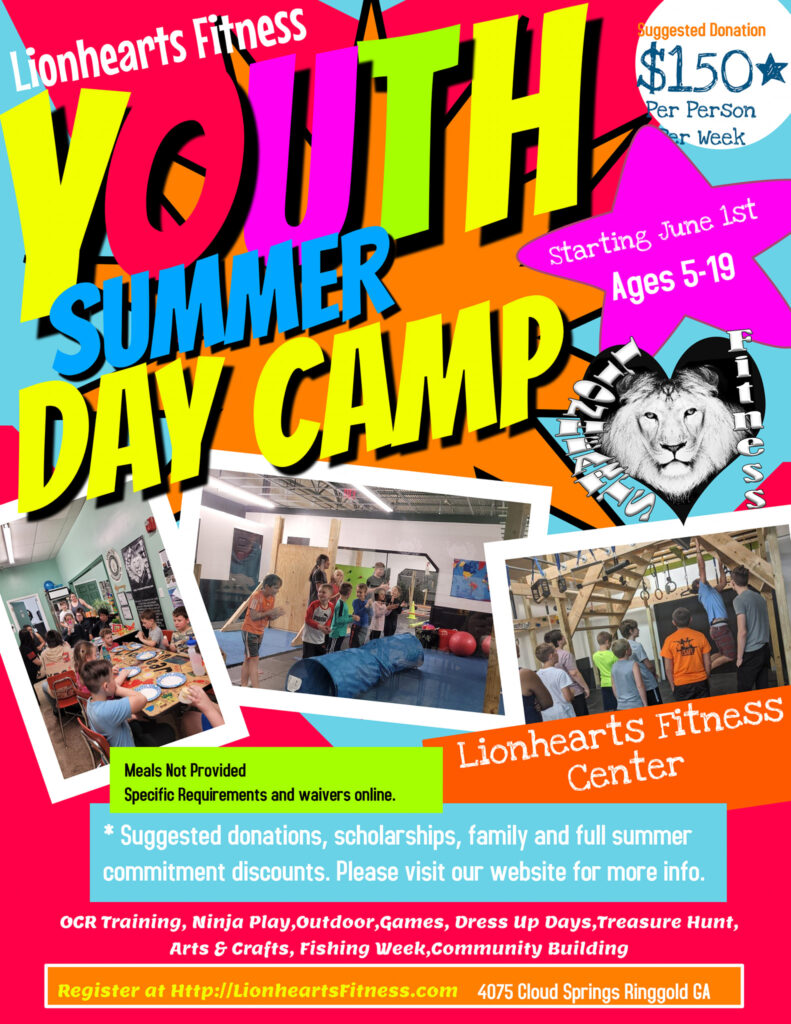 Click Flyer to Register
READY FOR SUMMER CAMP!
Currently Lionhearts Fitness Day camps are held at the
Lionhearts Fitness Center 4075 Cloud Springs Road
(The Gateway Business Center)
We will be trying to add fishing camp, baseball camp and theater as well as other weekly themes. We haven't secured the venues yet.
We still accept youth ages 5-18 for Camps.
We will have 5-7 weeks of programming. We are still sorting that out, with a minimum of 5 weeks.
1 week is $150.00 Donation.
Donate for 2 weeks, get one free, $300.00 for 3 weeks
We are happy to offer a DONATION package deal at $500.00 for full program whether 5 or 7 weeks.
This is a donation to our 501 3c non-profit.
We use the funds to pay for supplies. Contact me shell@lionheartsfitness.com for scholarship programs.
Please, help a child in need and pay for a scholarship week to help the community.
All classes at Lionhearts Fitness are free. We often ask for help during our day camps.
Day Classes are Mon-Fri 9AM-4 PM

.
We are a Fitness Community Center and not a Day Care or Babysitting/Drop Off Service. We are a community of youth and adults.
We serve ages 5-22
(We also have adult programs.)
We have Arts and Crafts, Fitness and Community Building games and skill set drills.
We will continue to have our regular OCR and strength/agility training
Tues. and Thurs. 5-7PM

at the Fitness Center.
We pick up our Fitbar Rig on the 15th when Luccketta races the Spartan Ultra (50k)
Outdoor play is our focus this Summer.
Ideas, field trips, volunteers wanted!
Stacie Thurman will be helping and we can use a full team, both homeschool families and night class.
We will be taking periodic breaks, and be away for occasional races.
We do not provide food, transportation, or babysitting services.
Play Area for Toddlers
When bringing very young children, please take them to the back play area, as to not disrupt the camps.
Anyone wanting to decorate, fix up, lay down flooring to the play area, please feel free. Ages 0-5 with parent facilitating. Parents must remain with child. There is workout equipment available. Feel free to use as your child has active playtime.
Other points of interest :
We are still in active race season.
We have a a collection box for used sunglasses to help children with vision needs.
We have community service in June to clean our section of the Chickamauga Creek at Camp Jordan.
Fundraising will be at an all time high this Summer. We have a Camp facility to open!
We are in dire need of folding, or plastic chairs.
Did you read the Parents Handbook? You can download it from our parents page.
Please, remember we are 100% volunteers and your money helps provide the free fitness to all youth.
What to bring and NOT to bring to CAMP
Water bottle with campers name. It will stay at the center for the week. We refill the bottles with alkaline water.
Two healthy snacks. No fruit drinks, but fruit is welcome, (that does not include fruit candy!)
Healthy Lunch. Please, avoid peanut products, as we might have others allergic. There is to be NO food sharing, even among siblings. Please pack separate lunches for each youth. We try an make certain lunches are completely consumed, so please be considerate of your youths likes, dislikes, nutritional needs and portion control.
No Phone zone. Your child will have a locker to store the phone. If you need to stay in touch with your child, you are welcome to stay with them, but we put phones away for the day, with the exception of coaches taking photos.
No necklaces or jewelry that can snag in swinging equipment.
No Gum.
Medicine is locked up, but we do not administer it. Your youth must be responsible to take it at the appropriate times. Please make certain that if your youth is on medication that they take it at the appointed times. You will be called to pick up your child if they have missed their morning medications, or we do not have them at the Center. It can be embarrassing to the child when a mother/father/grandparent arrives frazzled during lunch with medication.
Sunscreen! Lotion only. Coach shell is severely allergic to the spray, even after applied.Your youth will have a designated "cubby" for their belongings.
Lionhearts Fitness Center survived the quarantine and have re-opened our doors.

We provide Day Fitness Camps and Night Time Fitness Classes for youth ages 5-22

During this time of community/worldwide crisis we have had a significant drop in donations.

We are 100% dependent on community donations.

We are a free/low cost service to all, run 100% by non-paid volunteers.

Thank you, EVERYONE, so much for all of your donations. I am so grateful.

We are just little over a year old and last year we didn't have ANY supplies of baseball gear for our camps. We do now!!

Thanks to the YOU the community. Now, to keep our doors open!

Everything you see in our lovely Fitness Center has been donated by YOU the community.

Thank you.

Lionhearts Fitness

Director

Michele "shell" Luccketta
Just click the Sponsor a child button. While you are here, feel free to sponsor a needy child or two. Thank you.
All day Fitness and Fun Camps!!
100 percent of all fees/donations go straight to helping the youth. We are 100% donations based and 100% volunteers.
Great job community. This is working. It's really helping many.
Spring Camp was a huge success and we are taking the very best of that experience and offering our youth 7 weeks of wonderful experiences!
Spartan and Racing
We will still be participating in our OCR training and racing. Most races are on the weekends. We will be focusing on training and conditioning in every camp! Don't let the fun fool you! Fitness is FUN!
Community Service
Community Service is a constant and we will have plenty of opportunities to serve our community. Again these activities are normally on Saturday