Lionhearts Fitness Day Camp
2020
Drop your child off for the day!!
Summer Camps are different this year, as we are waiting for other County facilities to open. The Catoosa County Parks and Recreation are honoring their current contract with us.

We will have Fishing and Baseball camps as facilities open.

We are very happy about that.

Currently Lionhearts Fitness Day camps are held at the Lionhearts Fitness Center 4075 Cloud Springs Road (The Gateway Mall right next to the Cloud Springs Deli)

Day Camps are Mon-Fri 8AM-4 PM. We are a Fitness Camp and not a Day Care or Babysitting/Drop Off Service. We are a community of youth and adults. We serve ages 5-22 (We also have adult programs.)

During Camps we have Arts and Crafts, Fitness and Community Building games and skill set drills.

We have our regular OCR and strength/agility training Tues. and Thurs. 5-7PM at the Fitness Center.

We have Teen Night Fridays 5-7PM

We have not reopened the Chess Club yet.

Did you read the Parents Handbook? You can download it from our parents page.

You can donate through the Sponsor a Youth tab. You will see a drop down menu of many of the different options.

Please, remember we are 100% volunteers and your money helps provide the free fitness to all youth.

Greetings Community!

Lionhearts Fitness Center has survived the quarantine and have re-opened our doors.

We provide Day Fitness Camps and Night Time Fitness Classes for youth ages 5-22

During this time of community/worldwide crisis we have had a significant drop in donations.

We are 100% dependent on community donations.

We are a free/low cost service to all, run 100% by non-paid volunteers.

Our donations have dropped at least 80%

We understand the need to protect your family and your basic needs. It is such a hard time by all.

I come to you asking for help.

Many of our needs have truly been met, especially when it comes to toys/books/art supplies/gym equipment and even office equipment.

We need financial help for only the following: Lease payments, electricity, water and internet.

We need your help desperately.

The CDC Orders of both TN and GA Apply to us as we serve both.

Because of these orders our funds are being used for cleaning supplies and other assorted needs.

We have a need for a Large Cubbie system. We need to keep all backpacks, lunchboxes and supplies in individual cubbies. We had a small on in one of our restrooms, we are using that now.

We need larger trash cans and a Garbage Bin Pick up Service

Tables (2?)

We are getting more youth, daily and we are sure the numbers will continue to rise.

Our needs are basic.

We are blessed abundantly by the donations received by the community.

We have received all the sport equipment we needed, balls, bats, gloves and even fishing poles!

We received tables (we can use 2 more as the needs continue to rise.)

We received a Shop Vac

We received an amazing professional printer

We are blessed indeed.

Thank you, EVERYONE, so much for all of your donations. I am so grateful.

We are just little over a year old and last year we didn't have ANY supplies of baseball gear for our camps. We do now!!

Thanks to the YOU the community. Now, to keep our doors open!

Everything you see in our lovely Fitness Center has been donated by YOU the community.

Thank you.

Lionhearts Fitness

Director

Michele "shell" Luccketta

Lionhearts-Spring-Camp-Itinerary

Sample Itinerary during this season.

We can not provide all of this at this time of quarantine. We will , again, as soon as we can. We will have the same type of camp we had at Virus Camps . If you would like more information, please contact us.
Why we held "Virus Camps"
DAY CAMPS TO HELP THE COMMUNITY THROUGH THIS TIME
=========
Our Youth Center has made itself available to help our community during this crisis. We don't provide meals, but if anyone needs food we would make arrangements. We have arts and crafts, youth gym and help with school work. We take every precaution to keep it safe.
We will have games, arts and crafts and other assorted activities.
CAMPS and OCR (Depends on Savage Race, Atlanta, Ga (SAVAGE JUST announced they have postponed their event.) and Spartan and @Spartan Kids)
Parents and Community have generously provided sanitizer and arts and craft supplies.
If at any time the community, government or powers that be, report that it's not for the best of the community, we will abide by their decision.
We are a non profit, volunteer only community service. We are funded by the community , for the community, to serve the community.
When we start our Day Camps-Hours will be:
Hours are: 7:30 am-4pm Classes are structured between 8am-4pm. You may pick your child up early. Late pick up will accumulate big charges as described in the handbook.
Camp Jordan and the Eastridge Parks and Recreation have joined our community efforts in bringing affordable fitness to all youth!! They are not available at this time, due to the Corona virus Pandemic. They normally host our Spring and Summer Fitness Camps,
They really believe in helping our community, as do we.
Our Fitness Camps, like our OCR, Team Conditioning and school involvement, are crossing all boundaries! We are in both GA and TN serving multi counties , reaching as many of the youth as we can.
The community is truly rallying behind our efforts.
No cuts, no tryouts, Community Funded Fitness. No child left behind, regardless of demographics, abilities, socio-economic status, and age. No child left behind.
We have a drop off area right at the Camp Jordan Pavillion. It's safe, contained and has it's own playground. We have access to the amphitheater, kitchen and full fields and even OCR area!! Oh the Fun we will have!
Earliest drop off 7:30am-latest pick up 6pm (or charged.)
Classes start at 8 and you may pick up at 4pm.
You can register NOW to save your spot. They fill up fast.You can donate here
Just click the Sponsor a child button. While you are here, feel free to sponsor a needy child or two. Thank you.
Professional Deep Cleaner Bridgett Viox is coming to deep clean the Center on Sunday.
Please, thank her for her services and hire her for your deep cleaning needs.
We both use Norwex products and she is also bringing hospital grade supplies.
Lionhearts SPRING Camp

CANCELLED
2020
Drop your child off for the day!!
During Hamilton County and Catoosa County Spring breaks.
Space is limited! Register Here
All day Fitness and Fun Camps!!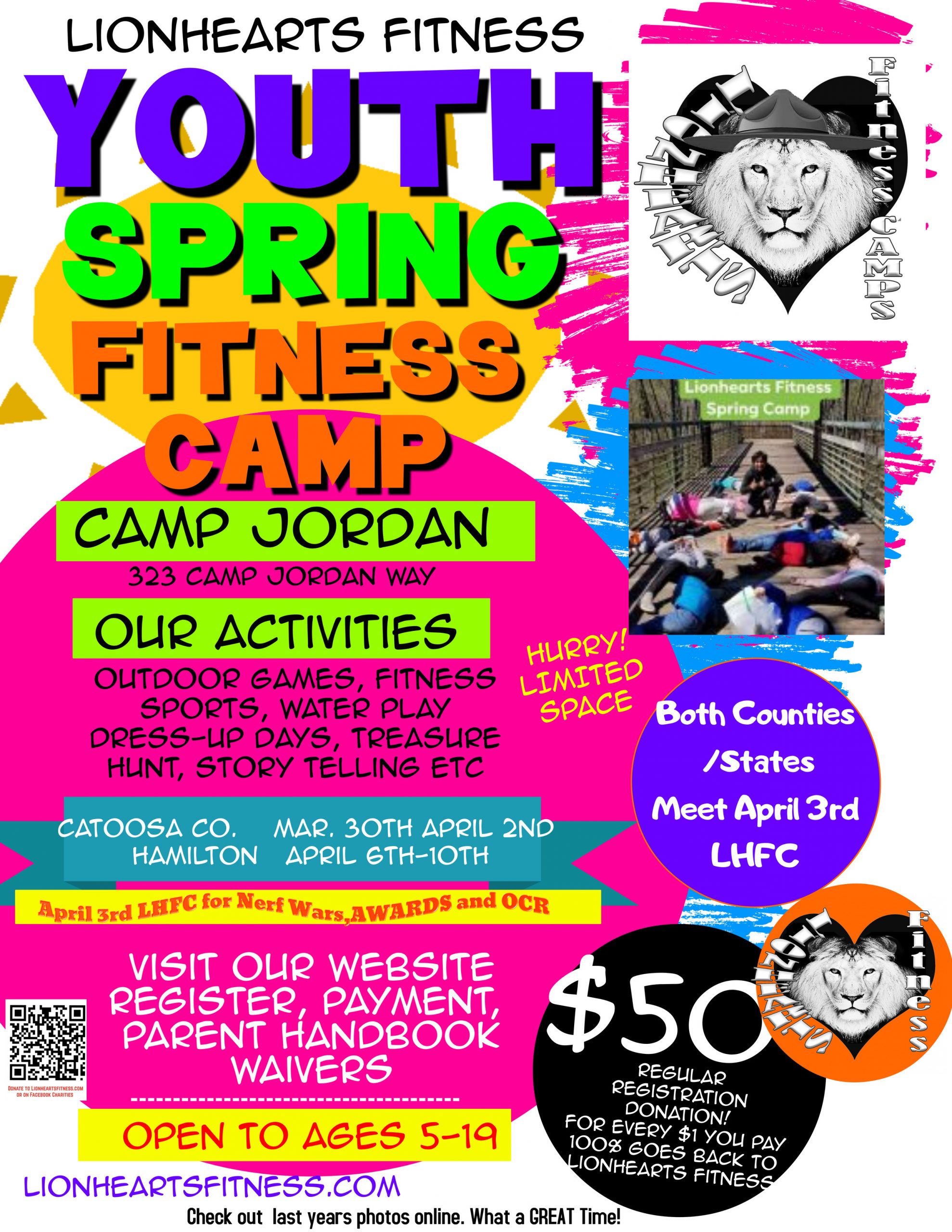 SUMMER CAMPS 2019–
We will do our best to model come of our camps on last year's as facilities permit.
Summer Camps 2019 were an incredible success! We are now gearing towards our 2020 Camps! How exciting.
We have pages of photo on our Facebook sites.
Here is a selection: (If you would like photos of your child, please let us know. We have an endless supply and are happy to send you digital copies.)
We have 3 more weeks of Summer Camp ahead. Sign up now to join the fun!
2019
Time to sign up!
Link to Weekly Itinerary and Supply Lists:http://lionheartsfitness.com/parents
Carnival of Fitness Camps Duration Location Cost
5/26-31 Launch: Conditioning Fitness Jack Mattox $125
6/3-7 Trail Hiking & Conservation 1 week Elsie Park $125
6/17-21 Obstacle Course Racing & Conditioning 1 week Our House Studios $110
6/24-28 Fishing Camp & River Wonders 1 week Elsie Park $150
7/8-12 Water Days & Nerf Wars 1 week Jack Mattox or Poplar Springs $150
7/15-19 Baseball Pitching and Fundamental Clinics 1 week Jack Mattox $125
7/22-25 Theater in the Amphitheater 1 week (last) Amphitheater $125
Camp 7 weeks Packages Regular Cost $910 Save $310 Pay only $600.
Camp 7 weeks Packages 2 youth $1210
Summer Camps are anywhere from $110-150 a week per child. If you pay for the complete 7 weeks you get a huge savings, ($300 savings!) and a free camp T-shirt. We also have large savings if you purchase the full summer camp package for more than one child. Please inquire if interested.
Specialty weeks of fun, all include daily fitness, bonding, team building and community awareness.
The first week will tie into the second, and the third, etc.
Our Summer Camps are very much like our Spring Camp, but with larger more intense themes!
Although we will have a Water and Nerf Gun centered week, each week will end with Nerf Gun Games and festivities.
We will have defined and structured activities daily. You will have access to our daily schedules, just like our Spring Camps.
Our last week of camp will be more fitness with a Theatrical element. A play written and performed by our youth and presented free to the community as we attend our end of camps banquet and awards ceremony.
Camps are all day. We run each camp at 8 am- 5pm (Unless prior arrangements are made.) We were 7am-6pm but parents came later and left earlier!
Each Week has it's own facility and drop off station. We are very excited! Let the fun begin!
Lionhearts Fitness and Youth OCR is a multifaceted non profit organization, providing fitness to all youth. Your donations and your fees (those who can afford it, ) go straight to helping the youth. Great job community. This is working. It's really helping many.
The County Facilities, both Catoosa County Recreation Department AND East Ridge Parks and Recreation Department and Camp Jordan Park, News Media, Our House Studios Inc OCRaddix (T-shirts) and many giving, charitable, individuals are making this a huge success for our youth, all youth. Thank you, very much. ~shell
Spring Camp was a huge success and we are taking the very best of that experience and offering our youth 7 weeks of wonderful experiences!
Spartan and Racing
We will still be participating in our OCR training and racing. Most races are on the weekends. We will be focusing on training and conditioning in every camp! Don't let the fun fool you! Fitness is FUN!
Community Service
Community Service is a constant and we will have plenty of opportunities to serve our community. Again these activities are normally on Saturdays.
Lionhearts Fitness and Youth OCR is a multifaceted non profit providing fitness to all youth. Your donations and your fees (those who can afford it, ) go straight to helping the youth. Great job community. This is working. It's really helping many.
Lionhearts Fitness will have assorted Social Media pages for each branch of activity (OCR, Camps, LionsRoar,) but everything is available, including waivers and parent welcome packets/handbooks, here on our website.

Thank you for making Lionhearts Fitness and Youth OCR a reality, helping the youth of our community on a full scale.
Parents Page for forms and Handbooks

2019

SUMMER CAMPS COMING SOON

Summer Camps will be separate week Camps, giving all youth an opportunity to participate. The Camp Fees for Summer will vary. We will provide you with all fees, with the finalized calendar of events. We will be accepting early registration and deposits. Camp class sizes will vary, but they have some limits. That too will be defined in the upcoming calendars.

No child left behind and we will make sure all youth will be able to participate in 1 or more of the Camp of their choosing, throughout the summer. Early Registration will help us organize that.

All of this will be finalized and offered to you by the beginning of April.

Conditioning Fitness

Trail Hiking and Conservation

Water Days and Nerf Wars

Obstacle Course Racing and Conditioning

Fishing Camp and River Wonders

Baseball Pitching and Fundamental Clinics

Soccer Foot Work and Fancy Feet Week

Theater in the Amphitheater

Scavenger Hunts, Out Door Hide and Seek, Bubble Wars and so much more.

Mentor Madness

More about it all soon!!