I can not recommend a better trainer. I know quite a few (almost as many as I know musicians and photographers haha.)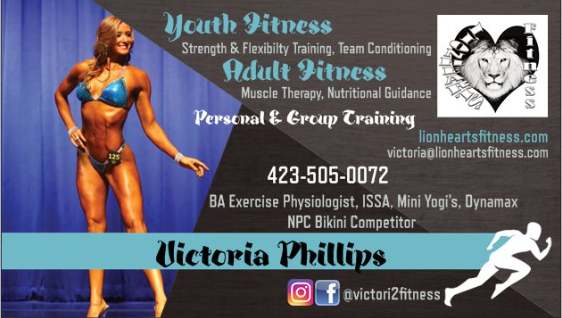 I have not only partnered with Victoria but I have been honored to mentor her, in the business side of what we do. With her BA in Exercise Physiology (I can't even spell this stuff..) she is unlike anyone I know in helping others. Her coaching/training style is unique.
Yes, she is currently a bodybuilder but she works with everyone, no matter the age, size, physical limitations or strengths. Very much like Brennon Pamplinbut in another vein. They sure compliment each other.
She works with babies for goodness sakes and has them on the floor working their fitness! Physical therapy/ muscle therapy is another specialty.
Truly personal training at it's best, but she is also currently training (strength and conditioning) the FURY girls softball team off season.
I know I pump the heck out of our new organization "Lionhearts Fitness." but I must let you know, we have the best in personal trainers. We have what you need. Gymnasts, OCR, Team Conditioning, Martial Arts.
Victoria will be filling her calender up fast.