Pledge Now!
Blind Pete came to us asking if he could create this amazing fundraiser for Lionhearts Fitness. Of course we agreed, immediately!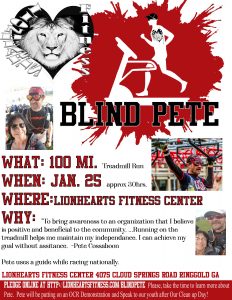 Pete had to reschedule. We now have our new date January 25th at Noon After our Lionhearts Clean up!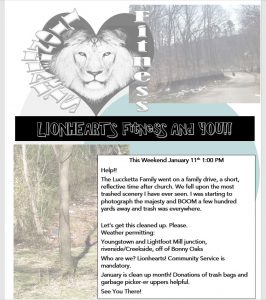 Our friend Greg Funderburg got us on the air, literally overnight to help promote this event.Video below.
Pete and I chatting with Greg December 17th on Fox Goodmorning Chattanooga
What a great opportunity. Thank you Greg! Delightful.
Thank you for your support of Lionhearts Fitness and Youth OCR at Our House studios!!
More about Blind Pete
Blind Pete Bio
(2019)
I was born with two degenerative eye conditions: RP and MD. I was diagnosed with these conditions when being registered for school at age 5. My parents and I were told that there were no corrective treatments for either, and that I would gradually lose sight as I grew older. The potential of becoming totally blind was possible, but it wasn't an absolute certainty.
Everyday life wasn't much different from anyone else's. I went to school, and was kept in normal class settings. I used visual aids like magnifiers to read, and listened to some texts that were read to cassette tapes. I was limited to what I was allowed to participate in gym class, and to her physical activities though. There was an incident during my freshman year of high school where I ran into a flag pole during a run in gym class. It was decided that I would be excused from that class from that point on.
My sight continued to deteriorate, and in March of 2005, I lost the complete use of my right eye due to the blood vessels rupturing in that eye. Adjusting to the change wasn't easy, but I did learn to adapt to my new situation. The loss of my left eye was more gradual, and I mark April 23, 2015 as the day that I couldn't see anything with my remaining eye. The transition to total blindness was easier in my opinion. The loss of one eye I believe helped me prepare for the loss of the other.
My first official race of any kind was the Peachtree Road Race in 2007. I was dating someone who encouraged me to sign up for it, and I did. I walked the course using my touch cane. It took me approximately two and a half hours to finish, but I did finish.
In April of 2011, I was at a friend's party, and I met someone who had run an obstacle course race earlier that day with his wife. That race was Warrior Dash. When I said that I was interested in in the race, this person said that he didn't believe I would be able to. On May 20, 2012 I was standing at the start line of my very first OCR. I started the race on my own, thinking I might only need a small amount of help along the race course. I ended up being assisted by four people, staff and volunteers, and finishing in two and a half hours. Although I did need help, and despite how long it took me to get to the finish, I definitely enjoyed myself. I signed up for the next year's race as soon as I could.
In 2013, I ran Warrior Dash again, and I also ran three 5K road races and my very first trail race. The trail race, Miles for Maria, was my longest distance at that time, 21.5 miles in 12 hours.
In 2014 I met one of the founders of a race group called the Georgia Obstacle Racers & Mud Runs (GORMR). This is when the world of obstacle course racing opened up to me. I completed 8 races that year, 6 OCRs and 2 trail races.
In 2015, I finished the year with 20 races, half of them being OCRs. At the end of that year, I made the decision to run one of the most challenging OCRs that I had heard of, World's Toughest Mudder. This is a 24 hour endurance OCR, where you run a five mile loop with approximately 20 obstacles as many times as you can in the 24 hour time period. I found a trainer, who also offered to be my guide, and the next part of my racing adventure started.
I finished 2016 with more then 50 races and events. Some of these are: Spartan Ohio Beast (my first Spartan race), the Spartan Devil's Trifecta (Palmerton Sprint, Winter Green Super, Killington Beast), the Spartan Agoge, World's Toughest Mudder (I finished with 7 laps), and I also ran my first half-marathon (ATC Thanksgiving Day Half-Marathon). I finished 2017 with more than 60 races and events, and I ended 2018 with over 70 races and events. In 2017 I qualified for the U. In 2017, I qualified for contender status for World's Toughest Mudder. In 2018, I qualified for the North American OCR Championship and OCR World's Championship races. Although I am totally blind, I was able to qualify for these races under the same rules as an able-bodied athlete.